So, who Is Gus?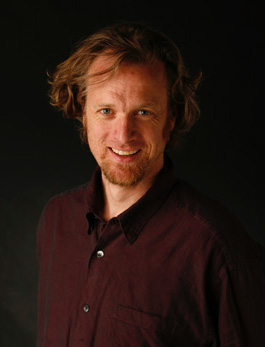 Gus first picked up a banjo in the early 80′s, but being young he neglected it for an electric guitar soon after. Many weird and wonderful bands later, the urge for banjo arose again and in the mid 90′s he re-aquainted himself with the five strings of salvation.
He has spent the next 15 years performing as banjo player, manager and multi-instrumentalist with Blue Grassy Knoll, playing in pubs and bars, as well as and co-writing and producing live scores to the silent films of Buster Keaton.  (See a performance on ABC TV on the Pictures and Sounds page) These shows received five star reviews at the 1999 and 2000 Edinburgh Festival and have toured internationally ever since.
With Blue Grassy Knoll and other bands he played on radio and television, released 6 CDs , and performed at venues such as the Sydney Opera House, the New Victory Theatre on Broadway, the National Theatre in London, the Recital Centre in Melbourne,  at festivals such as Port Fairy and Woodford Folk Festivals, the Melbourne International Arts Festival, the Adelaide Arts Festival, and toured to such exotic locations  as Brazil, South Africa, China, Ireland, New Zealand, Germany, South Korea, Canada, Singapore, the Netherlands and all across the USA. It was on this tour of the USA in 2003 that Gus took some lessons from some amazing banjo players in different cities across the States, and has been passing on what he learnt ever since. In 2005 he was the Guildford Banjo Jamboree's two-tune pick-off champion.
As well as playing banjo full time and managing the band, in 2004 he completed a Graduate Diploma Course in Sound Design at Victorian College of the Arts, working with sound and music in a variety of different of art forms including dance, theatre, film, documentary, circus and puppetry. He is composer-in-residence for Red Span Dance Company.
He has his own home recording studio and continues to write, perform, and teach music. Gus also has an Honors Degree in English and a Masters Degree in Australian Studies. He is still performing with Blue Grassy Knoll, as well as local bluegrass trio Hobson's Choice, and lives in Brunswick with his partner Feng Feng and young son Wilfred and even younger daughter Emerald.
You can check out what else he's been up to lately at www.gusmacmillan.com